Welcome to Grey Matter
Grey Matter is a software reseller and cloud service provider.
For over 40 years, we've helped technology teams move with confidence and speed in maximising business opportunities and solving technical challenges. And whilst technology is fundamental to what we do, our people make the biggest difference to our clients, partners, and performance.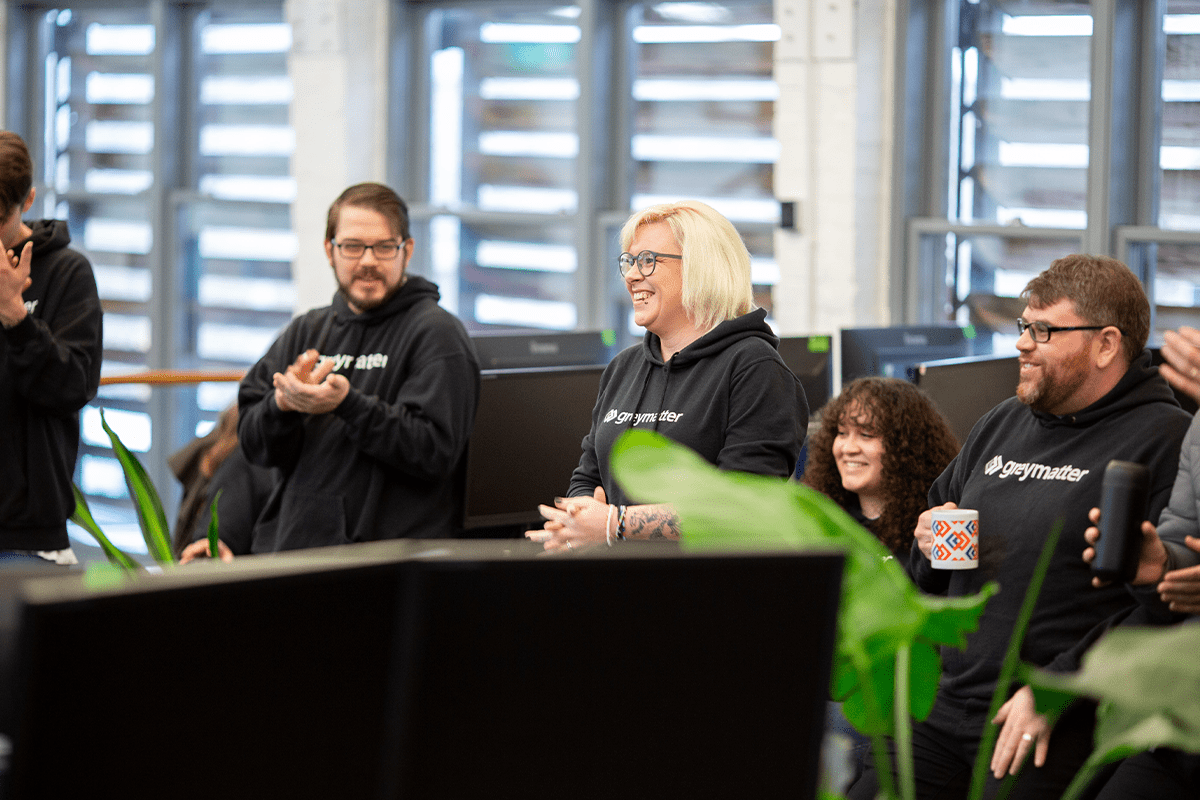 Workplace & Culture
We actively look for ways to develop a strong company culture where our company values are the foundation of all partnerships.
Benefits for UK Team Members
Flexible/Hybrid/Remote working

Depending on your role we support working in the office, hybrid working, and fully remote working for full-time, part-time, & flexible contracts.

Commission and Bonus Schemes

Depending on your role and department these schemes will be explained to you by your line manager.

Free Parking

When you come to the office it is stress free to park with our 2 car parks which are free of charge.

Employee Assistant Programme

The health and wellbeing of our team members is paramount. We are therefore proud to offer you all access to an Employee Assistance Programme (EAP), delivered by Health Assured – the UK and Ireland's leading wellbeing provider.

Canteen, free refreshments & snacks

Within our office are a main canteen and 2 kitchenettes please help yourself to tea, coffee, water, and squash. At the end of each month, we provide fruit and snacks to help keep our energy high and smash our targets!

Eye Care Scheme

Working all day on laptops it is important for our team to have healthy eyes that's why we partner with Specsavers to cover the cost of your eye test and subsidise the costs of glasses used for VDUs.

Individual Development Plans

Personal development is important to you and us. We offer inhouse and Vendor training and certification  to help you grow and achieve your career aspirations.

Personal Trainer

We sit down most of the day so Ryan our personal trainer conducts fitness sessions twice a week in person and via Teams to encourage breaks and movement throughout the week.

Recruitment Finders Fee

Staff referrals are fantastic to receive once the team member has passed probation a £400 payment after tax is paid to the referrer as a thank you.

Company Parties

As our way of saying thank you for a successful year, we organise an annual party for all our colleagues and their partners, it's a time to dress up, have lots of fun, and be recognised!

iMatter Committee

A staff run wellbeing initiative which recognises that a good work/life balance is essential to enable you to reach your full potential. Supports staff with lunchtime and out-of-hours activities, charitable fundraising, and team building.


Company Pension Scheme

A staff Pension Scheme is available once your probationary period has been successfully completed with Company contributions of 3%.

Medicash Plan

Reclaim treatment costs for things like:

Dental treatments

Optical costs

Specialist & Alternative Therapies

Chiropody

Prescriptions

And more....

MetLife Life Assurance

Lump sum payment of 4x salary


Bereavement & probate support service

Counselling services

Funeral concierge service

Virtual GP

Employee Assistance Programme

Additional benefits through Medicash plan

Virtual GP

mProve – mental/physical well-being support

SkinVision

Phio – remote physiotherapy assistance

Shopping discounts/cash back

Gym discounts
What do you enjoy most about working for Grey Matter?
The people and the culture. Driving to hit our targets at the end of the month and achieving great results!

I enjoy how it is inclusive to everyone, everyone asks after one another and is supportive and I feel that makes the atmosphere more enjoyable overall.
Climb Company Values
Partnerships

Climb is built on a foundation of meaningful relationships with team members, vendors, resellers, and investors that recognize and embrace these values.

Driven

We succeed by relentlessly pursuing our goals through working hard, having determination, and building a culture of contributors.

Service

We are passionate about delivering with speed, accuracy, and execution while operating in a positive, respectful, and fun working environment.

Expertise

We continuously strive to become subject matter experts and be highly engaged with our partners.

Forward-thinking

We invest in accelerating growth through continuous expansion of our capabilities and partnerships with emerging technologies.

Accountability

With integrity we are agile problem solvers who take responsibility for our actions, behaviors, performance, and decisions.
Climb Global Solutions, Inc. (NASDAQ:CLMB) is a value-added global IT distribution and solutions company specialising in emerging and innovative technologies. Climb operates across the US, Canada, and Europe through multiple business units, including Climb Channel Solutions, Grey Matter, and Cloud Know How. The Company provides IT distribution and solutions for companies in the Security, Data Management, Connectivity, Storage & HCI, Virtualisation & Cloud, and Software & ALM industries.